Amy's Carpal Tunnel Story
Mar 25, 2022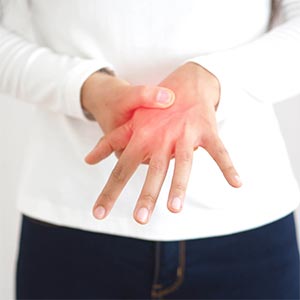 "If I would have known how easy the procedure was and that I would be back to work the next day, I would never have lived in constant pain for seven years," says Amy.
Amy had carpal tunnel syndrome, a compression of the median nerve in her wrist causing pain and weakness. She had difficulty doing just about everything with her hands and wrists like holding a knife at her butcher's shop job. Even sleeping at night was a challenge because the pain and numbness would travel from her wrists to shoulders keeping her up at night. Amy turned to one of the few doctors in Michigan performing a new, simple and effective procedure that allowed her to return to work less than 24 hours without pain.
Dr. Nicholas Moore, a family and sports medicine physician at DMC Huron Valley-Sinai Hospital performs a minimally-invasive procedure that uses a MicroKnife guided by ultrasound to cut and release the affected ligament. A small balloon is inflated to make sure the ligament has been released.
"My patients have great success with this procedure," says Dr. Moore. "It's done in the office or a procedure room, so patients don't have to go under anesthesia, the incision is so small, they don't need stitches and there are no post-op restrictions. We have been tracking our outcomes and the majority of patients can return to full activity within 3-5 days. People who otherwise can't tolerate surgery are able to get function back in their hands. The long-term outcome is the same as traditional surgery, but with far less downtime," says Dr. Moore.
"It's really awesome! I had my other wrist done just three weeks later. I went from years of not being able to do so many things to being able to do everything overnight. It's incredible," says Amy.
Millions of Americans live with the carpal tunnel syndrome which can be caused by repetitive tasks like typing and medical conditions such as obesity, rheumatoid arthritis, diabetes, even pregnancy.
Non-invasive treatments for carpal tunnel include resting your wrists, using braces and steroid treatments. Traditional surgery involves anesthesia and a larger incision across your wrist. Traditional recovery includes splints, possible physical therapy and weeks to months before function is restored.
This testimonial reflects the experience and outcome of this patient. Actual results will vary.