1st Makoplasty Knee Replacement Surgery at the DMC
May 28, 2019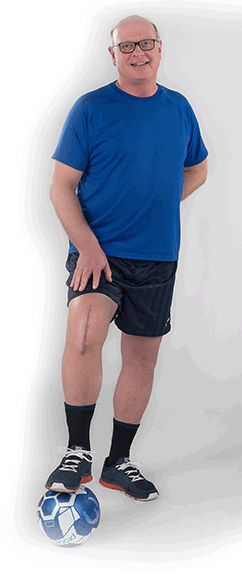 Russell Brynolf
Russell Brynolf of Howell, Michigan was the first patient in the state to have a robot-assisted Total Knee Replacement performed at DMC Huron Valley-Sinai Hospital in Commerce, Michigan.
This was Brynolf's second robot-assisted surgery - he also was the first patient to receive a partial knee replacement on his other knee three years ago, also performed at Huron Valley-Sinai Hospital. Prior to his first surgery, Brynolf was in so much knee pain that he was starting to have difficulty walking. Fifty-five years old at the time and a long-time soccer player, he sought the help of orthopaedic surgeon Dr. Roland Brandt at Huron Valley, who recommended the partial knee replacement procedure.
The DMC has used MAKOplasty technology since 2013 to perform other minimally invasive hip and knee procedures. In the past three years, the DMC has completed more than 1,300 MAKOplasty partial knee replacements and has grown to be the second largest MAKO program in the world. DMC's Sinai-Grace Hospital, Harper University Hospital, and Huron Valley-Sinai Hospital all have the technology for a total of four MAKO robots within the DMC hospital system.
The robotic technology allows the surgeon to place and align the components with extreme precision, assuring a better outcome for the patient. When a single degree in any direction can make a difference on the performance of the new joint, being able to make alignments to within a millimeter is critical. The DMC can do that in real time in the operating room. This is the new standard for partial and total knee procedures.
"My first procedure went so well," said Brynolf. "The surgery center was like a five-star hotel and the staff was great. I was back up in a couple months and it was like a night-and-day difference. I had the surgery in December, and in March I climbed a 960-foot waterfall in Jamaica."
Brynolf is part of a growing segment of the population seeking solutions to knee and hip pain. Brynolf's procedure was the first-ever MAKOplasty™ Total Knee Replacement surgery in the state of Michigan. The breakthrough surgery was completed using a robotic arm-assisted technology, which ensures accurate alignment and placement of knee and hip implants for nearly perfect results. The DMC is the only hospital system in Southeast Michigan to offer this technology.
"This is important for our growing population of orthopaedic patients because it can improve outcomes," said Khaled J. Saleh, BSc, MD, MSc, FRCS(C), MHCM, executive in chief for DMC Orthopaedics and Sports Medicine. "Advancements like these can lead to reduced hospital lengths of stay, reduced hospital readmission rates and other improvements. We have one of the most active robotic orthopaedic centers in the nation, with a large team of exceptionally trained surgeons which means we can offer our patients a full continuum of solutions for their knee and hip joint pain issues."