I'm Here Today Because of the DMC
Jun 6, 2019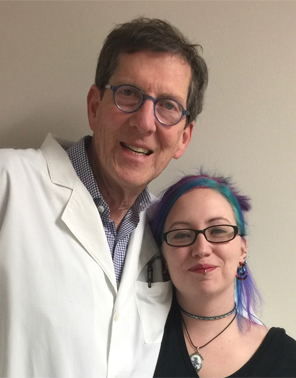 Christine Howard is a thirty-two year old mother of two. After a bad birthing experience with her first baby, she went on the hunt for a new doctor and found Danny Benjamin, M.D., OB/GYN at DMC Huron Valley-Sinai Hospital. "I wanted to find someone who would accommodate me and my needs," says Howard. "Dr. Benjamin and his team were very understanding and really listened to me."
She gave birth to her second child, a girl, on October 21, 2016. She delivered by cesarean section and had her tubes tied.
"My pregnancy and C-section were great and with no indication that I was going to have a problem post-partum," says Howard. "Nothing was wrong until something was wrong. Everything happened so fast and I'm grateful to be alive"
Howard started suffering from the effects of placenta acreda, a rare and difficult-to-diagnose condition where the placenta grows into and through the uterine wall. The condition affects 1 in 2,500 pregnancies.
One night, about six week's post-partum, Howard started to bleed heavily coupled with bad back pain and she started passing large clots. "I spoke with Dr. Benjamin and he told me to call an ambulance," she says. "After an unsuccessful visit to the ER, I went to see Dr. Benjamin the next morning. He gave me medicine for what we assumed was either a very painful period or my afterbirth hadn't completely come out and I went home."
Howard and Dr. Benjamin kept in contact every six hours until a clot blocked her vaginal wall. "Dr. Benjamin told me to come to the ER immediately so he could remove it," explains Howard. "He examined me and started to remove it but it was so painful that I started hemorrhaging."
Howard was taken immediately into surgery for a dilation and curettage (D and C) procedure to remove material from the inside of the uterus. "It was terrifying. I was by myself. My husband was at home with my babies and I had to call him from the ER before surgery. I didn't know what was going to happen to me," she says. "I woke up after the surgery and said, 'I'm alive!'"
"I ended up spending four days in the hospital and had two blood transfusions, but I got through it," says Howard. "I found out in my follow up appointment that they found pieces of my placenta still in my womb."
In January 2017, Howard had an endometrial ablation procedure to remove any remaining placenta and it was determined that she would need to have her uterus removed. Five months after giving birth, Dr. Benjamin performed her hysterectomy.
"Dr. Benjamin called me two weeks before the surgery and we talked about how the procedure would go and my experience thus far," she says. "It was a lot to go through and he made it easier with his upbeat attitude. He was always available to talk by phone or text. It meant so much to know someone was there that was knowledgeable and caring. He and my family made for an incredible support system."

"I did a lot of research on my condition. I had never heard of it and I learned it can be life-threatening because it's undetectable," says Howard. "On my birthday, I texted Dr. Benjamin to say, 'I'm here today because of you, so thanks.'"
This testimonial reflects the experience and outcome of this patient. Actual results and outcomes will vary by individual.