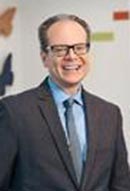 Rudolph P. Valentini, MD
Group Chief Medical Officer
Dr. Rudolph Valentini was appointed DMC Group Chief Medical Officer in 2018.
Dr. Valentini is a highly skilled, board certified pediatrician. His keen knowledge of the complex clinical health care environment, consistent leadership service on multiple DMC and Children's Hospital of Michigan quality, safety and peer committees — including the Quality and Innovation-Steering Committee, Staff Operations Committee and the Medical Executive Committee — makes him an excellent asset to our team.
Among his many achievements and experiences, Valentini co-founded the Vasculitis Clinic at the Children's Hospital of Michigan where he has continued to serve as a pediatric nephrologist along with pediatric rheumatologists that serve children with autoimmune diseases. He also played an integral role in redesigning the Hemodialysis Clinic at Children's Hospital of Michigan that minimized school absences.
Valentini is a graduate of Wayne State University School of Medicine. He completed his pediatric residency at Children's Hospital Medical Center in Cincinnati, where he also served as chief resident. He was a research fellow in Pediatric Nephrology at the University of Michigan Medical Center in Ann Arbor and completed his postdoctoral scientist training program at the University of Michigan.