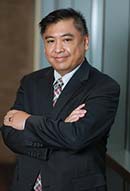 Ron Sagritalo
Chief Compliance Officer
Ron Sagritalo is the DMC's chief compliance officer. He joined the DMC in January of 2021. He provides expert management and oversight of the company's ethics and compliance program. Ronald brings a wealth of experience to the role, having worked for more than 20 years in the field of health care compliance.
Throughout his career he has served in a number of key compliance leadership roles. Before joining the DMC, Ronald was Chief Compliance Officer at U.S. Medical Management in Troy, and prior to that was Chief Compliance Officer with Spectrum Health Hospital Group in Grand Rapids.
Ron earned his Bachelor of Science from Cornell University in Ithaca, New York, and his MBA and law degree from DePaul University in Chicago.