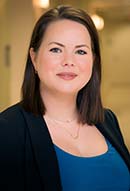 Gennie Snow
Group Chief Strategy Officer
Gennie Snow is the Group chief strategy officer for the DMC.
She works closely with market leaders, hospital executive teams, and service line leadership to develop and implement key business strategies to help us grow and enhance our ability to serve our community.
She is responsible for facilitating the development of our strategic vision and key priorities, supporting service line strategies and their implementation, researching and analyzing current market data and health care trends to anticipate new opportunities and trends for DMC, and lead an effective consumer engagement strategy that will differentiate and create awareness of our services within our primary and secondary markets.
Gennie is a seasoned health care strategist who has spent over a decade advising executive leadership of complex health systems, including academic medical centers, integrated delivery networks, community health systems, and physician networks to achieve their strategic, financial, and clinical performance goals. Gennie was previously with The Chartis Group, a health care consulting firm in Chicago, where she was an Engagement Manager in its Strategy practice.
Gennie earned her Master of Science in health policy and management from the Harvard School of Public Health in Cambridge, Mass., and a Bachelor of Arts in human development from the University of Chicago.