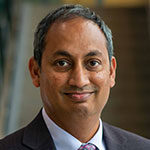 Gary Purushotham
Chief Executive Officer, DMC Sinai-Grace Hospital
Gary Purushotham was named Chief Executive Officer of DMC Sinai-Grace Hospital in July of 2022.
Gary brings more than 25 years of diverse hospital leadership experience to the role. He joined the DMC from Good Samaritan Hospital in San Jose, Calif., where he worked as Chief Operating Officer beginning in June 2019.
Prior to that, he served as Interim CEO for the hospital. Gary has worked in many key executive leadership positions throughout his career. He began his career in health care working in operations for Tenet at the Hospitals of Providence Sierra Campus in El Paso, Texas.
Gary is an accomplished leader with expertise in operations and clinical management. He has developed and implemented strategies that have grown volumes and improved hospital throughput, played a key role in providing oversight and direction for capital improvement initiatives, and has built strong relationships with physicians and other care providers.
Gary earned his Master of Science in Industrial Engineering from Trinity University, San Antonio, and Master of Healthcare Administration from the University of Texas at El Paso.