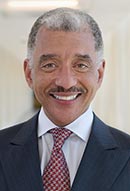 Conrad L. Mallett
Chief Administrative Officer
Conrad L. Mallett is the Detroit Medical Center's chief administrative officer. His corporate portfolio includes corporate communication and media relations, Michigan Pioneer ACO, security operations, governmental relations and community engagement.
In this role, Mallett focuses on strategic relationships with key external stakeholders, functioning as a liaison between the hospital and community. Mr. Mallett is a talented manager of complex relationships and returned to the market office as the CAO to enhance the DMC's operational and communication progress.
Mallett's responsibilities include actively engaging the Legacy Board to ensure the appropriate level of stewardship and governance of the DMC. He works closely with community leaders to help build consumer confidence in our brand and enhance the image of the DMC.
Most recently, Mr. Mallett was president of Sinai Grace Hospital. Driving the hospital's financial success coupled with the implementation of innovative community programming led to him being recognized as one of the top 100 African American hospital leaders in the United States of America.
Prior to entering the healthcare field, Mallett had a highly distinguished career as a lawyer and Michigan Supreme Court Justice. He was appointed to the Michigan Supreme Court of Michigan in 1990, and was elected twice statewide. His colleagues elected him Chief Justice in 1996.
Mallett holds Bachelor of Arts in English from the University of California at Los Angeles. He earned a master's degree in public administration and a jurist doctorate degree from the University of Southern California, and a master's degree in business administration from Oakland University, with a concentration in healthcare management.