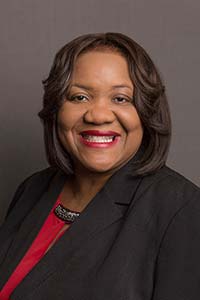 Audrey Gregory, Ph.D., R.N.
Chief Executive Officer, Detroit Medical Center
Audrey Gregory, PhD was named Chief Executive Officer of the Detroit Medical Center on January 1, 2020. She came to the Detroit Medical Center in October 2019 as the CEO of its adult central campus hospitals including Detroit Receiving Hospital, Harper University Hospital, DMC Heart Hospital and Hutzel Women's Hospital.

Dr. Gregory comes to the DMC from Tenet Healthcare's Saint Francis Healthcare System in Memphis, where she served as Market CEO, and CEO of St. Francis Hospital - Memphis.

Dr. Gregory is a highly respected leader who has been recognized nationally for her commitment and dedication. As a recipient of three Tenet Circle of Excellence awards, Dr. Gregory has been with Tenet for 15 years in a variety of senior leadership roles, including Chief Nursing Officer, Chief Operating Officer and CEO Placentia-Linda Hospital in Southern California.

Dr. Gregory was a member of the Tennessee Hospital Association Board of Directors and the Memphis Chamber Chairman's Circle. In 2017, she was awarded Diversity Champion by the Tennessee Hospital Association. She has been featured in Becker's Hospital Review as Women Hospital and Health System Leaders to Know, African American Leaders in Healthcare and Nurses Who Transitioned to Hospital CEO. She served as Chairperson of the Tennessee Hospital Association's Tennessee Center for Patient Safety Advisory Council.

Dr. Gregory earned a Ph.D. in global leadership from Lynn University in Boca Raton, Florida. She earned both a master's degree and a bachelor's degree in nursing and a master's degree in healthcare administration from Armstrong Atlantic State University in Savannah, Georgia.