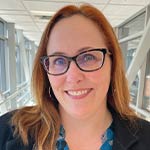 Allison DeMarais
Group Chief Human Resources Officer
Allison DeMarais was named Group Chief Human Resource Officer for the DMC in May of 2022.
Allison brings a broad range of experience in all areas of human resources to the position with an emphasis on recruitment and retention of staff, which is a critical issue for all of us in health care. Before joining the DMC in 2018, she served as Chief Human Resources Officer for Michigan-based EHM Senior Solutions, and prior to that was CHRO at Weiss Memorial Hospital in Chicago.
Allison earned her Bachelor of Science degree in social psychology from Western Michigan University, and her MBA with a concentration in Human Resources from DeVry University/Keller School of Graduate Management in Phoenix.